Your design dreams realised...
NeoGen's new Trotec laser opens up endless new print finishing possibilities for graphic designers looking to differentiate their work....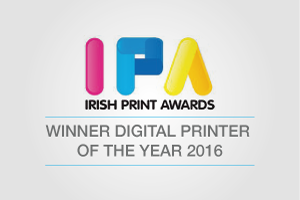 NeoGen has just been awarded Digital Printer of the Year in a 'posh' award ceremony at the Irish Print Awards 2016. It's a great achievement for everyone here.. !! The winning entry was a digitally printed magazine 'Arnotts Spring / Summer Magazine 2016', a full colour...
At long last, we have just got the keys to our new building :) Luckily it's literally right beside us, so the move won't be too bad. The new facility combined with our current building will provide us with the ability to expand our print production...
NeoGen's graphic design, and print division have just placed an order for 2 wide format HP printers. The new HP Latex 360 will provide greater versatility for the printing of indoor and outdoor work. The HP 360, the latest in latex technology will deliver print jobs fast,...
NeoGen's graphic design, print management and web design business in Dublin continues to grow. We are looking for a Print Production Assistant to work within a managed print cell within a client's site (Dublin 9). The candidate will work closely with our team but must...
Merry Christmas & A Happy New Year. The hustle and bustle of the Christmas season is exciting for our staff. But we have not forgotten about our loyal customers...
Looking for printing in Blanchardstown has just got alot easier! Our in house digital print facility has just installed the new c8000 Digital Press. The quality, speed and dependibility make the KM an ideal choice for a growing print company and its many customers....
Dublin graphic design company NeoGen has expanded its graphic design studio with the recruitment of Bartosz Fengler in its web design department. With the additional investment of 3 new 27″ iMac's fully loaded with CS6 the graphic and design studios are fully prepared for lots...